<![if !vml]><![endif]>

 

Zighi

Baci

Publishing

 

<![if !vml]><![endif]>
Euro Café Music
<![if !vml]><![endif]>

Welcome to Zighi Baci Publishing! I'm delighted that you're interested in finding out more about the old ballo liscio dance music, Italian and Neapolitan songs dating back to the 1850s, French chanson, and the bal musette tradition of France.  These treasured melodies are difficult to come by; that's why I decided to create my own arrangements, transcribing facsimiles, very old handwritten manuscripts, old tape and audio recordings, and my own more recent video recordings. For the first time, you will enjoy being able to read and perform this music with lead sheets that contain chord symbols. Whether you are an accordionist, a C instrumentalist, a mandolin player, violinist, or guitarist, you'll learn and expand your repertoire while sharing these timeless dances with your musical partners. I have hand-selected and arranged these exclusive public domain songs which encompass a range of popular sources including folk (village), café, cabaret, salon, urban dance halls, street and back alley music traditions of Rome, Palermo, Naples, Milano, Paris, Toulouse, Nice, and beyond--just to name a few places where this music continues to thrive.

Con musica, la vita e bella, Sheri Mignano Crawford, owner and publisher of Zighi Baci Publishing ©

"Like" Zighi Baci Publishing on Facebook and find out what I'm currently doing! I convert notation to TAB, arrange music for special instrumental and vocal ensembles, and transpose parts to other (non-C) instruments; in addition, transcriptions may include melodic line with embedded French or Italian lyrics.
New in Print - U.S. orders only
Don't have PayPal? Print this order form and mail it to us.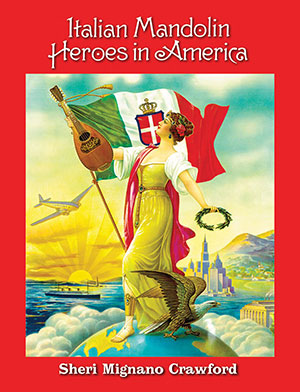 Advance Praise from Mike Marshall:
"Oh Lordy! You've DONE IT!
"Sheri Mignano Crawford's monumental book on the history of the Italian immigrant musicians of the late 19th Century gives us a deep dive into their lives, their struggle in a new land, their musical business acumen and the beautiful music they have give us. She shows this through the lens of our beloved instrument, the mandolin. It is the history of the Italian mandolin, but it is also a great American immigrant story.
"Thank you, Sheri for your inspired work. My own paternal great-grandfather Albert Marciariello came to Pennsylvania in 1885 from a small village outside of Naples, Roccaromana, in Caserta. To be taken back in time through your wonderful book has been like walking in his footsteps. After I had been playing bluegrass mandolin for just a couple of months I found out that my own grandfather played the mandolin as a young boy and was most likely ordering sheet music from many of the publishing houses and musicians mentioned in your book. Thank you for your thoughtful and complete research. We will treasure it."
Mike Marshall, Grammy-nominated Mandolin Virtuoso
What you will find at Zighi Baci Publishing
Mandolins, Like Salami. (2005) First Edition.

 

Social history, photographs, appendices, music catalogs
Mandolin Melodies. Third Edition (2006) (sheet music, photos, some history) PDFs on a CD to be read on PC and/or printed.
Mando Liscio (2008) Audio CD. Recording of "Mattinata di Matteo" an ensemble of 4 mandolins, accordion, and guitar. Limited edition.
French Soirée. (2010) First Edition. (sheet music, biographical sketches, photos, and history of guinguettes) on CD, to be read on PC or printed.
How to sign up to receive periodic updates with new transcriptions.
<![if !supportLists]>· <![endif]>See below to download the ORDER FORM.
Description and details about the three (3) books and one (1) audio CD:
BOOKS
Mandolins, Like Salami
<![if !vml]>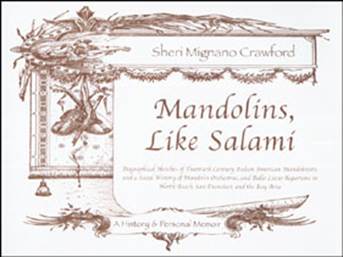 <![endif]> <![if !vml]>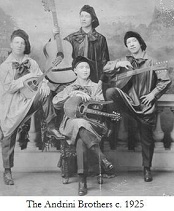 <![endif]> <![if !vml]>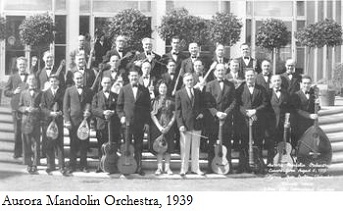 <![endif]>
Published in December 2005 at City Lights Bookstore in North Beach.  200 pages, 8 ½ x 11, with more than 40 photographs. It is sold at Caffè Trieste, North Beach, San Francisco and Elderly Instruments (Lansing, Michigan). This book represents a social history (the only one of its kind) that covers the San Francisco Bay Area mandolin orchestras, ensembles, and Italian American mandolin players of the 20th century.  Biographical sketches, extensive bibliographic resources, and music catalogs identify the specific music along with concert programs and other relevant material for the historian and the musician alike.
Mandolin Melodies (Book on CD)
<![if !vml]>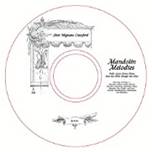 <![endif]>
This book is now in its 3rd edition in PDF format on a CD. It contains music history and background, a photo gallery, and 140+ lead sheets and dozens of arrangements for two instruments. Chords, suggested harmony, photographs, and analysis accompany the music.  Sibelius software is used as the music software program.  Click to download example (Mio Dolce Sogno) (pdf). My good friend, the late Butch Baldassare, performed this mazurka in Woody Allen's 2011 film "To Rome, With Love".
French Soirée (Book on CD)
<![if !vml]>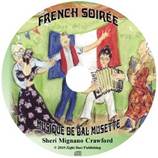 <![endif]>
Janet Baer, artist rendering at a concert, 14 de Juillet
Contains social history of accordionists in France, button box players and composers such as Michel Emer, Joseph Colombo, Gus Viseur and many others in the bal musette tradition. Index of current and historical dance halls in Paris. Biographical sketches of San Francisco Bay Area accordionists, plus a collection of 30+ dances and chansons.  Xavier de la Prade, François Ravez, and George Bachich provided manuscripts and helpful hints enabling me to share in this delightful musical genre.
To order books or CDs, print the Order form! (pdf)
AUDIO CDs
Mando Liscio (recorded 2008 at Caffe Trieste Studios) contains my arrangements of ballo liscio dances taken from the Mandolin Melodies.
This is a limited edition.   Download the Liner Notes (pdf).    Listen:   10-zopilote.mp3
<![if !vml]>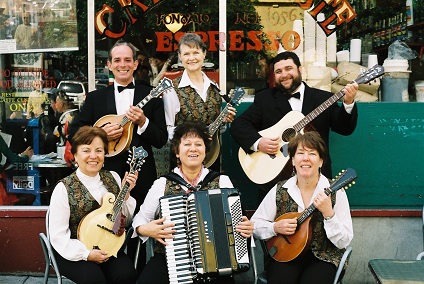 <![endif]>
Matt Vuksinich, Iona Ali, Tom Romero
Janice Fournier, Sheri Mignano, Kathy Sherak
DUE ZIGHI BACI  CDs
<![if !supportLists]>· <![endif]>Café de Paris (French chanson LIVE recording, July 14, 2011)
<![if !supportLists]>· <![endif]>Caffè Napuli  2010 (Neapolitan and Italian only)
Due Zighi Baci specializes in French chanson, Italian and Neapolitan canzone. visit:  www.EuroCafeMusic.com to purchase vocal/accordion CDs;
Michael Van Why, tenor, and Sheri Mignano Crawford, accordion.  mailto:napolitenor@gmail.com
Caffè Trieste in North Beach: check out the café's website for up to date music schedule.

<![if !vml]>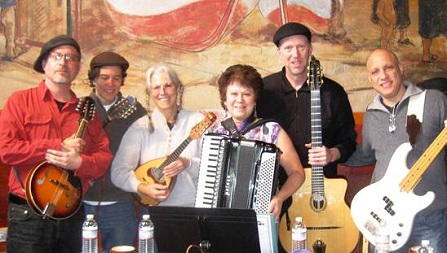 <![endif]> 
    "M di M" Mattinata di Mandolini (Caffè Trieste, North Beach)
L to R: John Bilioska, Davis Vasquez Andrini, Theresa di Falco, Sheri, Ned Boynton, Andrew Lawton
YOUTUBE VIDEOS
RUDY CIPOLLA
I was fortunate to be a musical partner and friend to Rudy while living in San Francisco. He always wanted his music to be enjoyed and shared throughout the world. I have already transcribed several of his pieces in "Mandolin Melodies."  These old manuscripts take time to decipher, and I expect to be able to offer all his compositions in clean, freshly transcribed arrangements. They will be made available as they are uploaded at   Bob Bruen's archived Rudy page on his website:  http://walkingrain.org/rudy.php
<![if !vml]>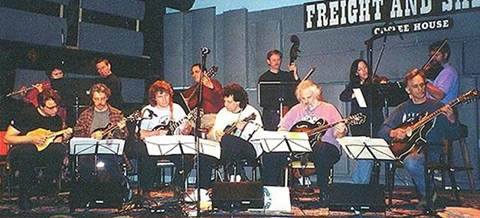 <![endif]>
Memorial Tribute to Rudy Cipolla, Berkeley, CA February 28, 2000
Back Row: Far left, Sheri Mignano Crawford, Matt Eakles (flutes)
Front Row: Darrol Anger, Radim Zenkl, Mike Marshall, David Grisman, Bob Bruen
Thank you for your interest in the music I love. I look forward to hearing from you. 
Zighi Baci Publishing
Sheri Mignano Crawford, owner and publisher
P.O. Box 2704
Petaluma, CA 94953-2704
zighi@sonic.net         EMAIL your questions, comments, and to receive a concert schedule, rate card, media kit, or brochure.

<![if !supportLineBreakNewLine]>
<![endif]>